The Little Heart with the Big Question Mark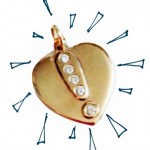 Many years ago while we were still in high school, the Captain gave me a sterling silver charm for my birthday. It was a silver heart with a question mark in the middle. I wondered what it meant? It was rather ambiguous to say the least, and made me curious as to why he would give me something like this? However, he promised me that someday he would give me a heart with an exclamation point in the middle instead! So I waited. The years went by and the promise of the heart with the exclamation point took a sideline to our married life together and to the raising our three daughters and to the building our careers, living, learning, working, etc. 
But, the Captain always keeps his word!
read more
Just recently we had a long-planned family reunion at our favorite inn down in Maine to celebrate our wonderful years together with everyone. For a surprise for the Captain, I wrote and sketched up this story about a little heart on her journey in life to discover what the meaning of the question mark on her tummy really meant. I thought it would be funny since everyone in the family now knew the story of this curious gift that the Captain had given me so many years ago. On the last evening at our family dinner party I played the video of the story of the little heart. It was such a surprise to everyone!! They all loved it and there was lots of laughter and happy tears following the showing of this little video. Then the Captain stood up and looked over and said to me "I am a man of my word and I have something for you" and he pulled out a little box from his pocket. He was smiling at me as he handed me the box. I opened it to discover inside a gold charm in the shape of a heart with an exclamation point in the middle made out of 5 diamonds. I put my hand over my mouth in shock as I reached over to hug him. I just couldn't believe that he had finally given me the heart with the exclamation point after all these years!! It was so amazing and so awesome and such a special moment that I will always remember every detail. My heart was so full of love and happiness as tears streamed down my cheeks. So while I was designing and writing this story of the little heart with the question mark on her tummy for him, the Captain was having a local jeweler custom make this special golden heart with the diamond exclamation point for me. Neither one of us knew what the other one was doing. It reminded me of that wonderful story of the "Gift of the Magi" written by O. Henry back in the early 1900s. It told the story of a couple and their love and what they were willing to do to find the perfect gift for each other. I now proudly wear a golden heart with a diamond exclamation point around my neck. This is truly a love story!! Carol H. Eldridge